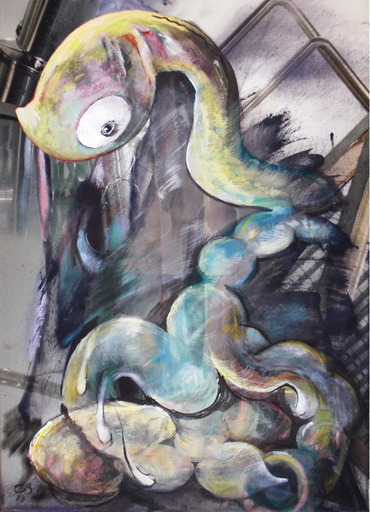 Born in 1959 in Deventer, Netherlands. Youngest of 5 children. My father's recordshop specialized in Old Jazz music was of large influence, as well as my mother's appetite for Opera and my brother's abundant A to Z collection of Popmusic. A mix of everything and a lot of contrast in musical taste I grew up with. But no visual art (only Disney cartoons) nor literature.
I drew, wrote small stories, made imitation radio commercials, played librarian, wrote poems and designed costumes for the leading role (played by my best friend) of the school play when I was 11.

Luckily as a child I discovered the brilliant stories of 'Ollie B. Bommel' by Dutch artist MartenToonder and other writers -mostly humorous -that enlighted my dark age, living in a Dutch Bible belt smalltown. The seventies were no fun at all in such a place. Absurdity made sense.

Dutch television however, offered me new views, with experimental television programmes, literature, cabaret, stand-up comedy, acts of humorists and wonderful literary theatre like 'Herenleed' (Gentlemen's regret) by Dutch painter Armando and writer Cherry Duyns. They represented dignity, philosophical absurdity and connection to life.

Studying at Artschool, and after, I seemed to be attracted over and again by visual theatre, music and art that were rebellious, daring or provoking and touched the soul, either seriously or with sorrow or laughter.

Many names I share a connection with. Each on a particular level/subject, a connection that fed me thoroughly. Knowing art makes sense, makes you live, survive even in most difficult periods. Art is food, with fine taste or raw, as it is best digestible in certain circumstances.